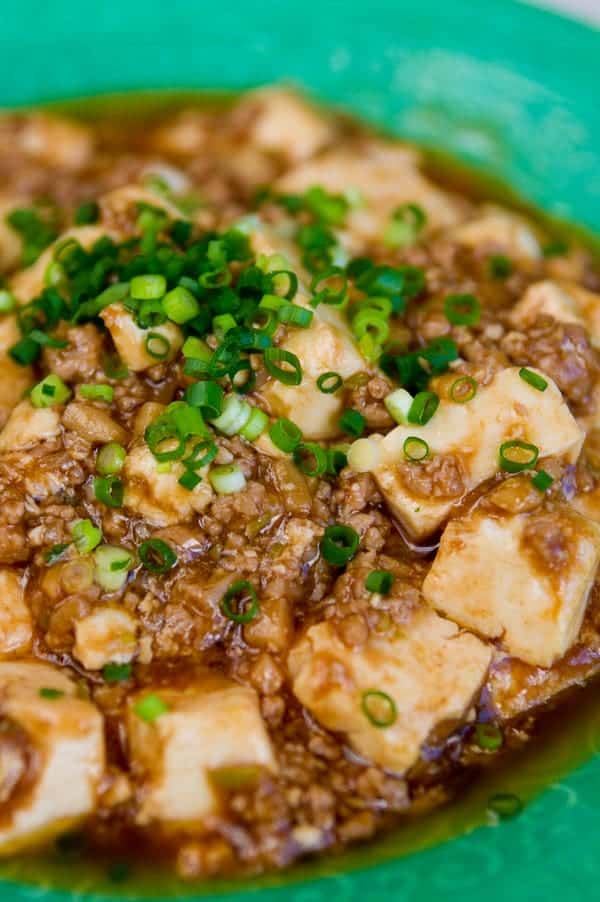 Depending on who you ask, you'll probably get a different story about the origins of Mapo Tofu, but the commonly accepted myth is that this dish was created by a pock-faced old woman. She was cast out of the Sichuan capital of Chengdu due to her disfigurement. One day, a weary trader happened upon her shack and she was so delighted by the company that she scraped together her meager provisions to create this dish.
Whatever its origins, Mapo Tofu came to Japan in the middle of the last century during a boom of Chinese restaurants. After being adapted to local tastes, its name transliterated to Mabo Doufu (マーボー豆腐), it quickly became one of the best known Chinese dishes in all of Japan.
Today it's about as common as mac & cheese at the Japanese dinner table and a trip to the grocery store will reveal a whole shelf of instant sauce packets. While they may be convenient, they're loaded with preservatives and MSG. Besides, it doesn't take that much more effort to make the sauce from scratch. I like to make a quadruple batch of sauce and store it in an empty water bottle for later use. It will keep for months in the fridge, just make sure you shake before using.
I also have a more authentic Sichuan Mapo Tofu here if you're into something a bit spicier.
Ingredients
For sauce
1/3

cup

2

tablespoons

1

tbs

1

teaspoon

1

teaspoon

1

teaspoon

1

teaspoon

1

teaspoons

potato starch

halve if using cornstarch
for Mapo Tofu
1

tbs

3

scallions

white part minced , green part sliced

1

tablespoon

1

large clove

225

grams

400

grams

soft tofu

drained and sliced into 1" cubes
Steps
Whisk all the ingredients listed under "for sauce" together in a bowl.

Heat a frying pan or wok over medium high heat and then add the sesame oil. Add the white parts of the scallions, the ginger, and minced garlic. Stir-fry until very fragrant (about 1-2 minutes).

Add the ground pork and stir-fry breaking up the chunks of meat until the pork is cooked. Add the sauce and stir until the sauce has thickened and the alcohol has burned off. Add the tofu and gently stir to coat with the sauce.

Turn down the heat and continue to cook until the tofu has warmed through and the sauce is nice and thick. Serve the Mapo Tofu with steamed rice.