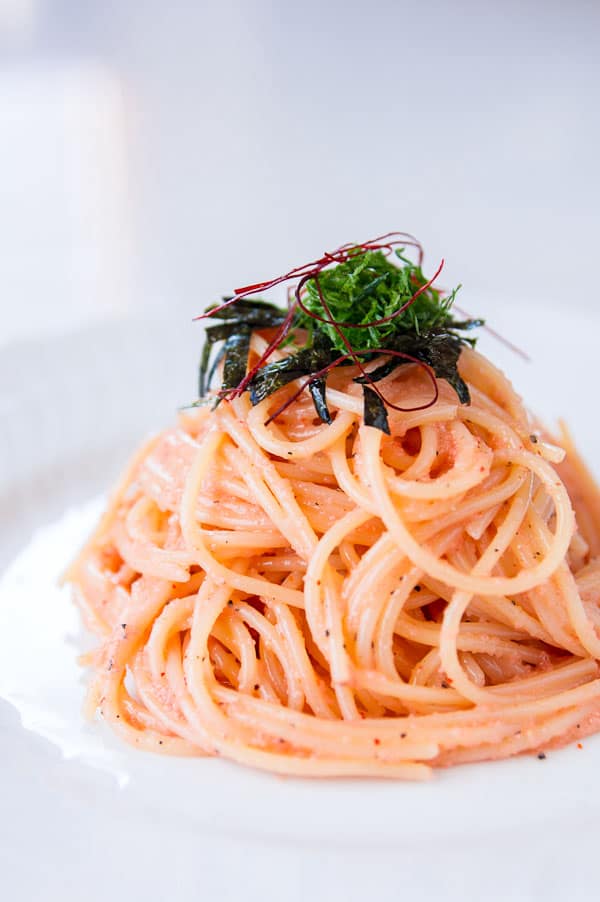 When it comes to pasta, I like simplicity that highlights the quality of a few fresh ingredients. Mentaiko Pasta is about as simple as it gets and yet there's something fun about an Italian inspired Japanese dish (… or is it the other way around?)
Mentaiko is made by brining and seasoning fresh pollack or cod roe, which gives it a pink color. Unlike bottarga, it's not dried, so the tiny eggs make a creamy sauce when added to hot pasta. The creamy olive oil tames the spicy brine of the mentaiko, while the shiso offers up some herbaceous notes that contrast nicely with the intense essence of the sea.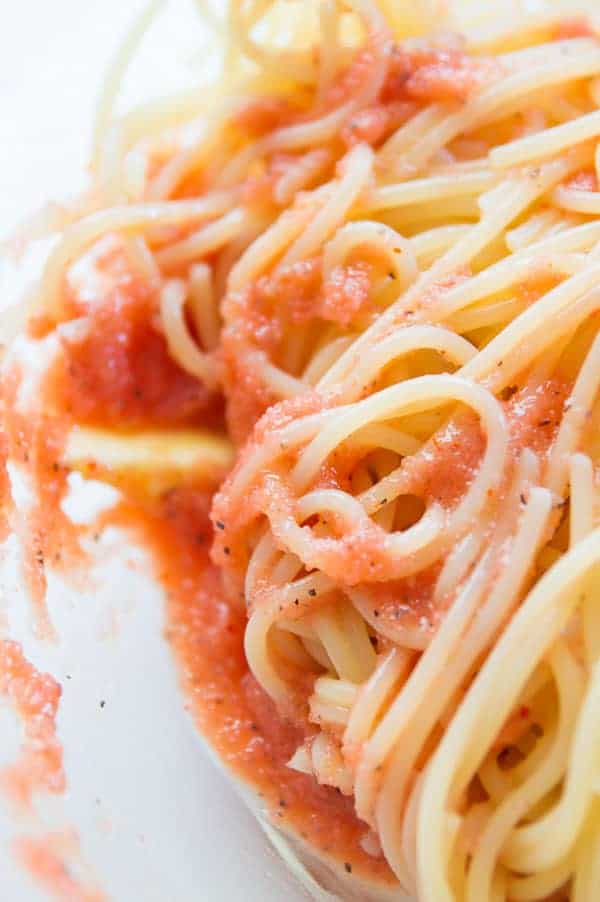 If you're not much of a seafood fan, this is one you may want to skip, but if you love anchovies or bottarga in your pasta, this should be right up your ally. You can get mentaiko at Japanese or Korean markets (where it's called myeongran jeot) and the shiso should be available at most Japanese grocery stores. If you're having trouble finding it, try buying some from your local sushi joint (shiso is that green leaf that often comes as a garnish for sashimi)
When preparing this pasta, be sure you use a mild creamy olive oil. Grassy or spicy olive oils tend to clash with the roe making it taste bitter (kind of like drinking orange juice after brushing your teeth). You can always test for this by mixing a small amount and tasting it. If you can't seem to find an olive oil that works, you can always just use regular vegetable oil. I also like adding a bit of butter in to make the pasta a bit more creamy, but if you're worried about the fat, you can leave it out.
Ingredients
1/2

cup

karashi mentaiko

(spicy code roe)

1/4

cup

olive oil

(mild flavor, not spicy or green)

1/4

teaspoon

400

grams

spaghetti

(boiled according to package directions)

2

tablespoons

cultured unsalted butter

(cut into a couple slices)

6

leaves

green shiso

(rolled then sliced thin)

1/4

sheet

nori

(cut into thin strips with scissors )
Steps
If you get your mentaiko (a.k.a. spicy cod or pollack roe) in a jar you can just measure it out into a bowl. Otherwise cut each roe sac in half and squeeze out the roe from each half, discarding the membrane.

Add the olive oil and black pepper and stir to combine. Meanwhile boil a large pot of well salted water and cook the pasta according to the package directions.

When the pasta is done, drain thoroughly and add to the bowl with the mentaiko sauce. Add the butter and toss until the butter is melted and you have an even coating of sauce on each strand of pasta. Serve immediately, garnished with shiso and nori.